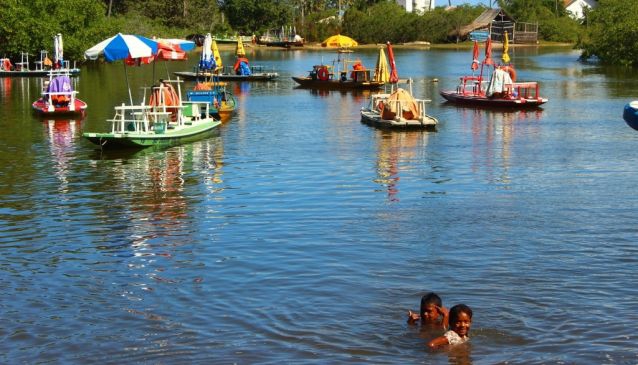 From Recife to Rio
Recife
Not sure we learned how to samba, but we definitely mastered the art of drinking caipirinhas...
Brazil was the best place to conclude our travels through the Americas. From British Colombia through the Caribbean, Central America and the Andes, we now find ourselves typing these words from the rooftop lounge at Hotel Praia Ipanema in Rio de Janeiro.
Life is good.
Brazil has been at the top of our bucket list for a long time. Our hometown of San Diego has a strong connection with Rio de Janeiro, with lots of Brazilians and San Diegans trading places for a few months at a time. After hearing the praises of Brazil from friends for years, it was high time that we get down to South America and experience it for ourselves.
But where to start? Brazil is the fifth largest country in the world and one of the most culturally diverse places we'd visited yet – too much to tackle in a mere week. We decided to split our time between two distinct places – the north-eastern beaches of Recife and legendary city of Rio de Janeiro.
Recife
We started in Recife. After an overnight series of series of flights crisscrossing South America, we arrived in the tropical state of Pernambuco mid-morning, eager to start exploring. Though we had some bad luck with rain, we made the most of the day by exploring the UNESCO World Heritage city of Olinda, a colorful colonial town overlooking the port of Old Recife. We had our first caipirinhas and a taste of Brazilian fusion cuisine at Patua Restaurant.
Both Olinda and Recife are popular destinations for Carnival (one the most authentic in Brazil) and famous for the ubiquity of giant puppets of celebrities floating amongst the crowd. We dropped into the Embaixada de Pernambuco, where we met with head puppet sculptor Leandro and posed with images of Gene Simmons, Pelé, Michael Jackson and Che Guevara.
Sculptures, Steaks and Seafood
The most impressive busts, however, were just outside of town at the Museum of sculptor Francisco Brennand. Housed in a former brick factory, Brennand's museum holds an eclectic collection of 2,000 sculptures, ceramics and paintings that reflect the artist's wide range of interests and talents – from Greek mythology to sensual sculptures and philosophy in stone.
Next we went to Spettus Steak House to try the Brazilian tradition of churrascuria – Brazilian rotisserie barbecue sliced directly onto your plate from massive skewers – before taking a catamaran tour of Recife and getting ready to head down the coast.
The next morning we went south to Porto de Galinhas for one last day at the beach. We rode a dune buggy down the coast to the windsurfing beach of Maracaipe, where we hopped into a traditional flat bottomed boat to explore the mangroves before having our last lunch in Pernambuco – a feast of fresh seafood at Beijupirá Porto de Galinhas.
Rio de Janeiro
We flew Rio that night and went straight to our hostel, the Lagoa Guesthouse, where a barbecue and party was already underway.
The next morning it was time to get all the shots we needed for our video – we took the funicular to Christ the Redeemer, rode the cable cars up Sugar Loaf Mountain, visited Portuguese churches in the historic center, grabbed a quick and healthy açaí bowl, had some beers amidst street art in Bohemian Santa Teresa, walked down a tiled staircase to the aquaduct of Lapa before catching the sunset at Ipanema. After dinner, we topped off the day with a classic Rio experience – a football match at Maracaná Stadium.
Hiking, Hang-gliding, and Helicopters
It was a hard day to top, but there was still a lot to do in Rio. We began with a hike up Pedra Bonita Mountain with Thiago from Jungle Me Tours. The hike took us through the Tijuca National Park, a second growth rainforest that is the largest urban park in the world and one of the most successful re-forestation initiatives on earth.
Pedra Bonita is one of a few massive karsts jutting up from the coastline of Rio, contributing to a landscape of jungle, mountains, and beaches unlike any other metropolis on earth. Our guide, Thiago, led us through the rainforest pointing out the myriad of flora and fauna dwelling within eyesight of the skyscrapers of the city.
From the top, we had a panoramic view – and an interesting idea on how to get back to sea-level. Hang-gliders were taking off from a platform just below us, so we signed up for our first hang-gliding lesson. With no more than five minutes of instruction, we were strapped into a hang-glider, running off a platform (with a qualified pilot, of course) and flying over the Tijuca National Park, watching the city spread out to the left, and coming to land right on the beach.
As if we hadn't spent enough time in the air, we went up in a helicopter tour to get some final shots of the city at sunset. We took off from the Lagoa, swept over Ipanema and Copacabana beaches, then swung around Sugar Loaf Mountain before making a majestic ascent to Christ the Redeemer, hovering before his outstretched arms as the sun disappeared behind the hills.
The Final Bucket List Item: Dancing Samba
There was one bucket list item left outstanding – learning how to dance samba. That night we headed to the nightlife district of Lapa to learn how to dance Samba at the dance club Carioca da Gema. Live music, strong drinks, beautiful women...we had a great time! Not sure we learned how to samba, but we definitely mastered the art of drinking caipirinhas.
Of all the places we've visited so far, Brazil is one we could see ourselves settling down after our travels come to an end. Learning Portuguese, mastering that Samba, hanging out on Ipanema... there were more than enough reasons to promise we'd come back soon, and know we'd keep our word.
Thank you to SETUR, the Tourist Board of Pernambuco, for all their help in welcoming the brothers to Recife.
Want to know where's next on Alex and Marko's Biggest Baddest Bucket List? Keep an eye out for further adventurous blog posts and don't forget to subscribe to BBBtv.