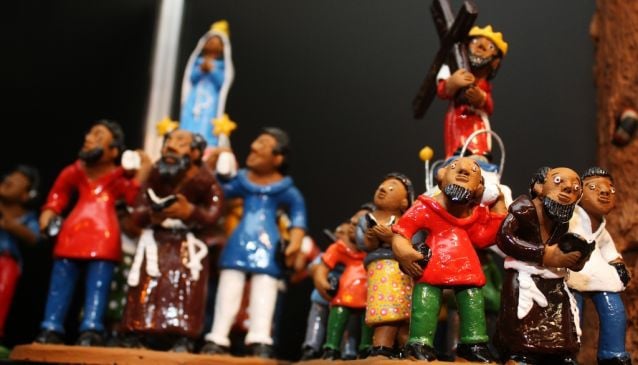 Art & Handicraft of Pernambuco
Arts & Culture
Across generations, artisans have printed the region's history onto elaborate handicraft
Pernambuco's exuberant culture manifests itself in many ways, but handicraft is probably the best one, since it is culture that you can see, touch, wear, buy and bring back in your luggage. From generation to generation, local artisans have mastered how to print the history of the region and the ways of its people onto elaborate pottery, woodwork and embroidery. The quality of the pieces has granted many of Pernambuco's artists international admiration. So check out the list below to make sure you return home with more than just pictures in your camera and a tan on your back.
Pottery and sculpture
Out of the dust of the ground, says Scripture, God formed man. And out of the same material artisans in Pernambuco craft careful depictions of the man of the Northeast, with sculptures that are truly divine.
Caruaru (130km from Recife) is the most important centre for pottery and sculpture in the state. All across town, especially in the 'Alto do Moura' (declared the largest figurative art centre in the Americas by Unesco), you'll find studios of renowned local artisans. The most typical sculptures are small depictions of everyday scenes and characters of the Pernambuco countryside, called 'bonecos de Vitalino' in remembrance of 'Mestre Vitalino', who began this tradition, continued today by his many disciples.
Other ceramic goods produced locally are pots, pans, toys, decorative jars and plates, as well as other varieties of sculptures in different sizes and of motifs.
Tracunhaém (72km from Recife) is home to another host of passionate clay artisans. The town's production is best known for its figurative sculptures, depicting animals, saints and other characters, in a style echoing the baroque heritage from the Portuguese. Decorative and utility pottery are also local specialties.
Wood, furniture and xylography
The production of wood handicraft is well spread across the state, ranging from toys, to furniture and sculptures. The capital Recife and neighbouring Olinda are important national centres for carved woodwork. However Gravatá (85km from Recife) has a large production of wooden furniture (both rustic and contemporary) and vintage toys, such as dolls, hobby-horses and spinning tops. In the far west of the state, the city of Petrolina is best known for its 'Carrancas', large wooden figureheads that in the past were used to scare evil spirits and today are extravagant decorative pieces, made both in wood and clay.
Another trademark of Pernambuco is the xylography: stylized illustrations carved onto wood blocks. The inspiration for the drawings traditionally comes from the everyday scenes of the Northeast. Samples of this work can be purchased printed onto booklets (look for the 'Cordel' poems), papers and tiles, or on the original wood block. This centennial practice is carried out by many engravers throughout the state, though some have reached greater renown, such as J. Borges and J. Miguel.
Embroidery and cloths
In the hands of the women of Pernambuco, wool, yarn, linen, cotton and coconut fibres become intricate dresses, table cloths, blankets, towels, hammocks, carpets and much more. The Northeast is revered across Brazil for its delicate embroidering, carried out in an artisanal and sustainable fashion in its countryside. Of European origin, much of the embroidery done in Pernambuco still bears a name from the Old Continent: Richelieu, Renaissance, Louis XV and so on. The cities of Passira, Salgadinho, Pesqueira and Limoeiro in the Agreste region are the most traditional producers.
Fibres
From the vegetable fibres abundant in nature (from banana, sugarcane, coconut and other sources), local artisans manufacture countless objects for decoration and daily use. Baskets, hats, purses and other articles abound in most street fairs, not to mention some more fashionable articles made in 'golden straw'.
Dolls
You'll find puppets and dolls of all sizes and shapes in Pernambuco: from the gigantic ones in Olinda, to the toys one of the Zona da Mata. If you think Olinda's famous Bonecos Gigantes (giant dolls) can only be seen in Carnival, then you're invited to visit the 'Embaixada de Pernambuco' in Bom Jesus street in Recife Old Town, where prime samples of the dolls are exhibited throughout the year. Take a close look at the carefully-sculpted faces, depicting politicians and celebrities, many of them done by the local master, Silvio Botelho. You can even purchase a miniature one, custom-made at the store, with your face on it!
In the Zona da Mata (second region of the state, between the coast and the Agreste) two cities stand out for the production of toy dolls and puppets. Vitória de Santo Antão (50km from Recife) will take you back in time a few decades, when girls' dolls were carefully knitted and seemed to be taken out of a renaissance painting (instead of a videoclip, as it is today). Cotton, fibres and porcelain are the main materials employed. Glória do Goitá (60km from Recife), in turn, is home to the "mamulengos", string puppets, much used locally and throughout the State to stage plays for children.
Leather
This material is tied to Pernambuco's identity, as most of its inhospitable outback was first occupied by 'vaqueiros' (cowboys, if you will), who needed durable apparel to protect them from the thorny vegetation. Mostly from cows and goats, leather is the raw material for shoes, sandals, purses, bags, wallets, belts and hats of all sizes (from small ones, as the herdsmen use, to the large decorated ones 'Lampião', a famous outlaw of the Sertão, used to wear). Leather handicraft can be found nearly everywhere in the State, though Caruaru and the countryside in general are more traditional in this segment.
Where to find it
Though manufactured in different areas of the State, all of the aforementioned art and handicraft (plus countless others you'll have the joy of discovering personally) can be found in street fairs and handicraft centres in Recife and its metropolitan area. But, in case you had a road trip planned, you can cross all four latitudinal regions of the State (Coast, Zona da Mata, Agreste and Sertão) via the BR-232 federal highway - nearly all of the manufacturing cities named here can be accessed by it.
Recife
The recently inaugurated centre stands right besides the Marco Zero and has over 16, 000 pieces from more than 500 different artists, including the most famous ones.
Everyday (10am - 8pm)
Traditional fair in Boa Viagem, very popular among locals, with nearly 200 stands to choose from.
Everyday (2pm -10pm)
Jailhouse turned into art and handicraft mall, this historic building has three stories of shops and stores.
Monday to Friday (9am - 7pm); Saturday (9am - 6pm); Sunday (9am -2pm)
Mercado São José
Historic market which sells everything under the sun: from handicraft to meat and fish.
Monday to Saturday (6am - 6pm); Sunday and holidays (6am - 1pm)
Street fair on the Rua do Bom Jesus in Recife Old Town. Takes place every Sunday.
Sunday (2pm - 10pm)
Fenearte
Largest handicraft fair in Latin America, Feneart takes place every July in the Centro de Convenções de Pernambuco.
Fenahall
Similar to Fenearte, except that it takes place in January and focuses more on international handicraft.
Olinda
Mercado da Ribeira
Has a good number of studios and shops. The construction dates back to the 17th century.
Everyday (8am - 6pm)
Where you can buy handicraft, enjoy a superb view of the ocean, while eating the best tapioca in town.
Everyday (9am - 8pm)
Bezerros
Centro de Artesanato
Similar to the one in Recife, this was the first large-scale art and handicraft centre of the State. In it you'll find over 12, 000 articles from nearly 400 artists from all over Pernambuco.
Caruaru
Mandatory stop for people visiting the city, this 200 years old fair has the greatest local concentration of handicraft. Shops by famous artisans are spread across town, while the Alto Moura (7km from downtown Caruaru) is the treasure-trove of figurative art.