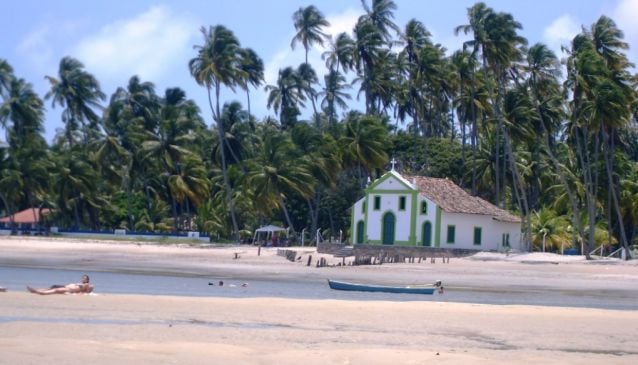 Most Popular Honeymoon Destinations in Pernambuco
Family Fun
Pernambuco is an absolutely brilliant honeymoon destination that combines luxury and natural beauty.
The diversity of this state makes it one of the most popular honeymoon destinations in Brazil and South America. Whilst tourism and business in
Pernambuco
has grown quickly in the past few years, there are still many spectacular and hidden areas which we would encourage you to explore!
My Guide Recife local experts compiled the list of the Most Popular Honeymoon Destinations in
Pernambuco
, all perfect choices for those who want to ensure their first holiday as a newly married couple is memorable.
Its geographic conditions make
Carneiros
an almost private
paradise
. Hundreds of coconut palms make the backdrop to this white sand
beach
, which curves past open sea protected by natural reefs into the
Formoso River
. Despite its isolation, it is provided with
bars
restaurants
inns and
hotels
, and also offers delightful
catamaran rides
. In addition to the natural beauties, the main attraction for honeymooners is the Church of São Benedito, also known as Church of
Carneiros
.
The Fernando de Noronha archipelago, or just simply Noronha, has more than one reason to be considered a paradise. It is an ecological sanctuary where you can find beaches voted the best in Brazil.
The islands are designated a UNESCO world natural heritage site and a Brazilian Federal marine park. Indeed, the whole place is like one big picture postcard.
It offers a range of attractions that include snorkeling, diving, walking as well as plenty of wildlife on land and in the oceans. An archipelago ideal for self-indulgence and relaxation, yet it also offers numerous activities for the more active.
Located in the town of Ipojuca, approximately 63 km away from Recife, 'Porto' has conquered many times the award of the most beautiful beach in Brazil, being currently one of the main tourist destinations of Pernambuco and one of the most visited beaches in the Northeast.
The natural warm and crystalline water pools made the balneary famous, with an excellent infrastructure of lodging, gastronomy, trading and entertainment.
This beach is immediately north of Porto de Galinhas, protected by reefs, which form a natural warm water pool, with 2.5 km of extension. The beach provides calm and relaxing bathing and suitable for family water-sports.
For lovers of luxury and comfort who are willing to spend a little more money, there is a complex of high quality resorts installed in Muro Alto which attract tourists from around the world and national celebrities. There are some very special accomodation options for honeymooners, but at a price.
Located near the southern end of
Pernambuco
bordering Alagoas, 117 km away from
Recife
, this small town received its name thanks to its patron saint and to the "crowns". These are rock and sand banks that emerge at low tide forming
natural pools
.
The town has clean
beaches
, perfect for raft rides, many
coconut farms
, fishermen villages and old mills. Plenty of accomodation options both sides of the border.
A region to chill out and kick back in the sand - leave the 21st century behind!
Triunfo has a good
touristic infrastructure
. Situated between hills and a lakefront, the city has a cooler
climate
. Maximum temperature is 28ºC in the summer and 5ºC in winter evenings.
The town is situated in the north-west of Pernambuco state - at least 4 hours drive from Recife - but offers a very different experience to the coastal region.
The city charms visitors due to its cool
weather
due to the altitude of 1000 metres. This place hold
historical
legacies and even prehistoric. Among the leisure options are cable car rides over the lake João Barbosa.
Cobbled streets and slopes full of colonial history, art,and beauty.
Olinda is particularly famous for its superb carnival. But its colonial beauty is available all year round, being a UNESCO world heritage site, with lovely views over the sea and back to Recife.
This old town and surroundings has many leisure options such restaurants, cafés and bars that give life to the city, even at night.
The old houses, religious buildings, the evening breeze and the bustle give a special atmosphere to the landscape. As home to many artists and musicians, it has a village-like feel.
Petrolina is the largest city in the Sertão of Pernambuco and offers many others attractions.
It is surrounded by irrigated agricultural areas, growing grapes, mangoes and other tropical fruits. The region offers a rather unique wine tourism experience being just 9ºS of equator and the second most important enotourism in Brazil.
Walks by or boat trips on the River São Francisco show stunning sights, such as islands, river beaches and rapids. Close by is the Salgaginho hydroeletric dam, which holds back the biggest manmade lake in the world.
Petrolina is gateway to the Serra da Capivara region in neighbouring Piaui state and its incredible ancient cave-paintings.
Gravatá is known for its mild weather and buildings of European influence, Gravatá is the top winter season destination of Pernambuco. It is just over an hour inland from Recife on the BR-232 highway.
Filled with condominiums, the city is crowded in the holidays of the Holy Week and the months of June and July, especially in St. John´s Eve, by trippers from Recife and all over Brazil.
It is a good base to discover the region of high hills and nice views with a good tourism infrastructure, including farm hotels and decent restaurants.