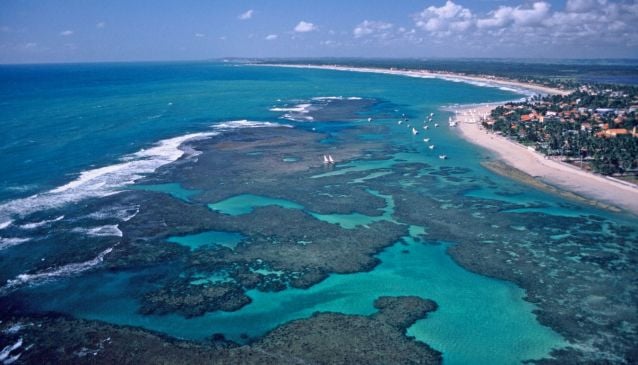 Top 6 Beaches in Pernambuco
Adventure
No time to visit all beaches listed at Mydestination.com/recife? Here are the ones you can't miss!
Chosen nine times by specialised literature as the best beach in Brazil, Porto de Galinhas is for many the undisputed champion. Located on the South Coast, 70 km from Recife, this beach has become a favourite for foreigners and locals due to its perfect combination of natural beauties and high-quality tourism infrastructure.
By boat it is possible to reach natural pools formed by reefs, few minutes away from the shore, where you can swim right next to hundreds of colourful tropical fish. Porto has also plenty to offer out of the water. In its small, pedestrian-only town, you'll find a great variety of bars and restaurants for every taste (and budget), plus souvenir and handicraft shops which also vary in quality and price.
There is a large choice of hotels and resorts in the area, where it is possible to get rooms and bungalows. They get more luxurious as you approach the beach of Muro Alto, immediately north of Porto de Galinhas. Maracaípe (3rd beach on our list) is also quickly accessed from Porto de Galinhas, to its south, which is why it is worth staying a couple of days in this region.
Fernando de Noronha as a whole is an unforgettable destination. But if we had to pick one beach which would make you have second thoughts about returning to civilisation, that would be Baía do Sancho.
Chosen as Brazil's best beach 2012/2013 (Viagem Magazine), this nature haven is protected from the outer world by forest-covered cliffs. Access is possible only by a long metal staircase or by boat. The scenery will fully reward those who manage to get there: its crystal clear waters (this phrase is not here for effect: it is really that transparent) make it one of the best areas in the country for diving, with superb visibility of coral reefs and myriads of fishes. Dolphins and other marine mammals may also be seen if you are in a boat.
You can visit the Baía any time of the year, even during rainy season (winter), when the excess water becomes two waterfalls falling from the cliffs. Environmental control is strict, so there are no food or bathroom facilities, and access hours are controlled during the turtle breeding season (January to June).
The best view is from atop the cliffs, where most people take their postcard picture. From here, you can see the whole bay and all the shades of blue and emerald which melt into the horizon, and wonder where else you'll ever get to see something so beautiful again.
Maracaípe is close to Porto de Galinhas (both in our list and in its geographical location), but has a very different feel and public. It is today the top destination in Pernambuco for water sports, such as surfing, windsurfing, kayaking and many more, hosting a number of championships. But don't worry if you are not a pro: there are a number of booths and shacks on the beach which are actually surf schools that can help you to face the waves.
If you had something more serene in mind for your weekend getaway, go to the Pontal de Maracaípe, where the river meets the ocean. You can take a ferry to go up the river, into the mangrove area, which is a refuge and nursery for sealife. This ferry ride often is offered right off the beach of Porto de Galinhas, along with the visit to the natural pools.
Have you ever seen a seahorse up-close? Ask the ferryman and you just might! You can also see these curious and delightful marine creatures at the Hippocampus project back in Porto de Galinhas village.
Our fourth top beach is known for being more reserved and rustic. People don't go to Carneiros looking for fancy resorts or lively nightlife - so the accomodation options are more laid back too. Instead, this tropical refuge is treasured for its calm and clear sea, natural pools formed by reefs, river estuaries and coconut trees shooting out of the white sand. A sort well-kept secret of the locals, if you would.
Half of Carneiros faces seaward and the other borders the Rio Formoso river, protected by a reef just offshore, which produces calm waters and large natural pools and sandbanks at low tide – making it great for the whole family. Short boat trips from Carneiros include upriver into the mangroves, river beaches and Santo Aleixo island to its north-east, where snorkelling or diving can be practised. It is possible to visit Carneiros beach on a popular boat trip from Porto de Galinhas and Maracaipe beaches.
Carneiros beach is now only 85km away from Recife, look out for signs just after passing through Rio Formoso town, as 35km has been saved by the opening of a new bridge access. Whilst this facilitates the life of everyone, this has already increased the rate of local property development and will bring more visitors to this idyllic beach (so you might want to come quick!).
Sole beach of the North Coast to make it into our list, the Island of Itamaracá has something more than warm water and white sand to offer visitors: it has history. In the "Praia do Forte", the most famous beach on the island, you can see the "Forte Orange", a fortress built by the Dutch when they invaded and occupied Pernambuco in the 17th century. To go further back in time, check out neighbouring Igarassu, where the oldest church ever built in Brazil stands; or the "Vila Velha", just off the main road from Recife to Itamaracá, home to Pernambuco's first governor in colonial days.
Of course, this open-air museum wouldn't be on the list if it hadn't delightful beaches and other leisure options. The Praia do Forte - Coroa do Avião combo is a relaxing choice for any sunny day, while the local in marine institute, where you can see manatees up-close, is sure to entertain the whole family.
Tamandaré, in fact Carneiros beach, is the starting point for the Costa dos Corais (Coral Coast) marine preservation park which stretches south into neighbouring Alagoas State. Tamandaré is very close to Carneiros and was painted with the same palette of natural beauties: calm and clear waters, reefs, a long strip of white sand and notably less people around once summer is passed (during summer, music festivals and the like attract young people by the thousands).
The local establishments offer pleasant options for further enjoying the location, such as horse and boat rides. Tamandaré is also popular for boats and water sports enthusiasts. A popular boat ride during summer is to go towards Carneiros (immediately to the north of town) or Ilha do Coqueiro (a tiny island off Porto beach to the south, famous for its solitary coconut palm).
From here it is short drive to Maragogi (in Alagoas), which is famous for the "Galés" (natural pools 6km away from the shore), where visitors enjoy the company of colourful fishes and other sealife. Other natural pools similar to it can be visited also in Taocas and Barra Grande, which are closer to the Pernambuco border. The north coast of Alagoas State offers excellent accomodation options from comfortable guest houses to 5-star resorts in a region where time seems to have stood still and where, we are sure you'll agree, its natural beauty is well worth the extra distance.