Carnival of Pernambuco
Arts & Culture
Carnival in Recife and Olinda is a street party, extremely for the people and free for all.
If the image you have about Carnival in Brazil is just the one of large, over-decorated floats with semi-naked beauty queens dancing samba on top of them to an audience watching from overpriced seats at a distance, then Pernambuco's Carnival is sure to be a pleasant surprise!
Here, Carnival is not a spectacle for you to behold: it is a party for you to be a part of! What sets Carnival in Recife and Olinda apart from that of other cities is the fact that it is extremely popular and free for all. It is above all a street celebration, making it unique in the country for its openness and for the variety of attractions it offers.
Recife'
'Recife's Multicultural Carnival', as it is called, is democratic, inclusive and diversified. It does not take place in one single area; instead, different sites ('pólos', Portuguese for 'poles') are scattered across Recife Old Town (Recife Antigo), and other districts, making it possible to enjoy the party no matter where you are. This has several practical advantages: though the streets get very crowded (after all, it is the largest street Carnival in the world), not everyone is rushing to one single site, making it easier to get around and find a spot. Also the different pólos have specific types of attractions for each audience, so that you can choose just what kind of party you want to be a part of.
The pólos are the following: Pólo das Agremiações; Corredor do Frevo; Pólo Afro; Pólo das fantasias e Carnaval Infantil; Pólo das Tradições; Pólo de Todos os Frevos; Pólo de Todos os Ritmos; Pólo Mangue - Festival Rec Beat; Pólo Multicultural; Pólos Descentralizados; Pólos Comunitários.
The rhythms bouncing off the streets during those days are countless: samba, maracatu, mangue beat, axé and many more. Only one, however, is the trademark of Pernambuco; an Intangible Cultural Heritage of Mankind according to Unesco: the Frevo. This fast-paced rhythm is played all over Recife by parading brass orchestras and you're also likely to find Frevo dancers showing their acrobatic moves while holding a colourful umbrella.
In Recife, the first day of the celebration is also the biggest. Carnival officially starts with the 'Galo da Madrugada', a street party in which people follow a 27 meter (88.5 feet) tall cockerel or rooster across the streets of Recife Old Town, hailing the arrival of the festivity. The Galo da Madrugada has gone into the Guinness World Record Book as the biggest street party on Earth, gathering up to two million people.
With so many attractions, the inevitable feeling is that the four days pass by too fast. Thinking of that, the town hall has officially added another week to the celebration. The 'Semana Pré' (Pre Week) takes place right before the official Carnival date and stretches the party to a total of 10 days. But as a matter of fact, from January on, parties, rehearsals and the sort are already taking place all across the State. The 'Baile Municipal' and 'Bal Masqué' are the most traditional pre-Carnival balls, while others such as 'Enquanto isso na Sala da Justiça' and 'Guaiamum Treloso' are more youthful and irreverent.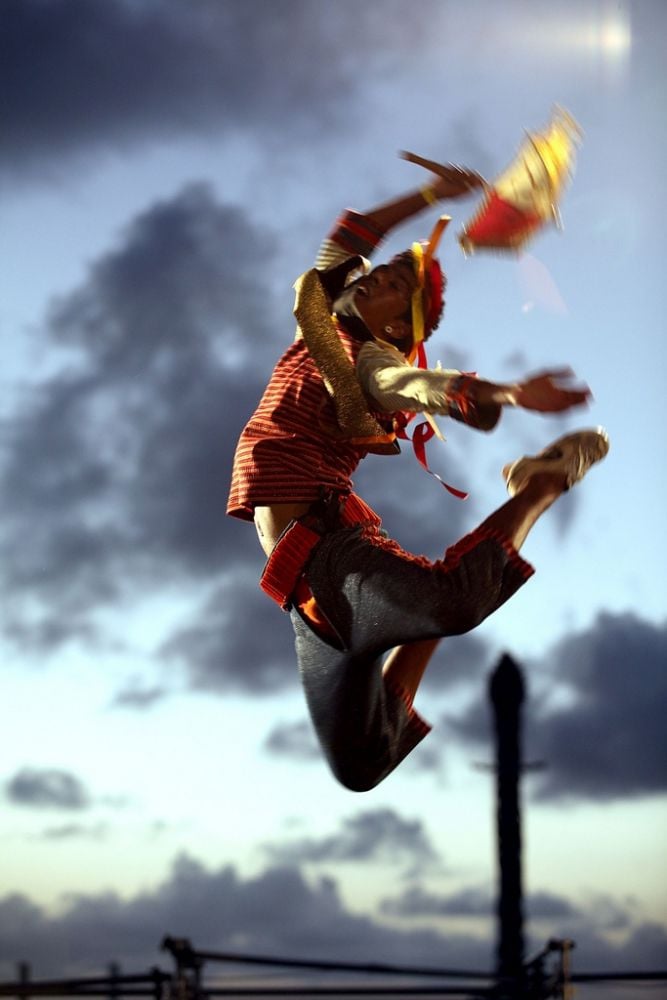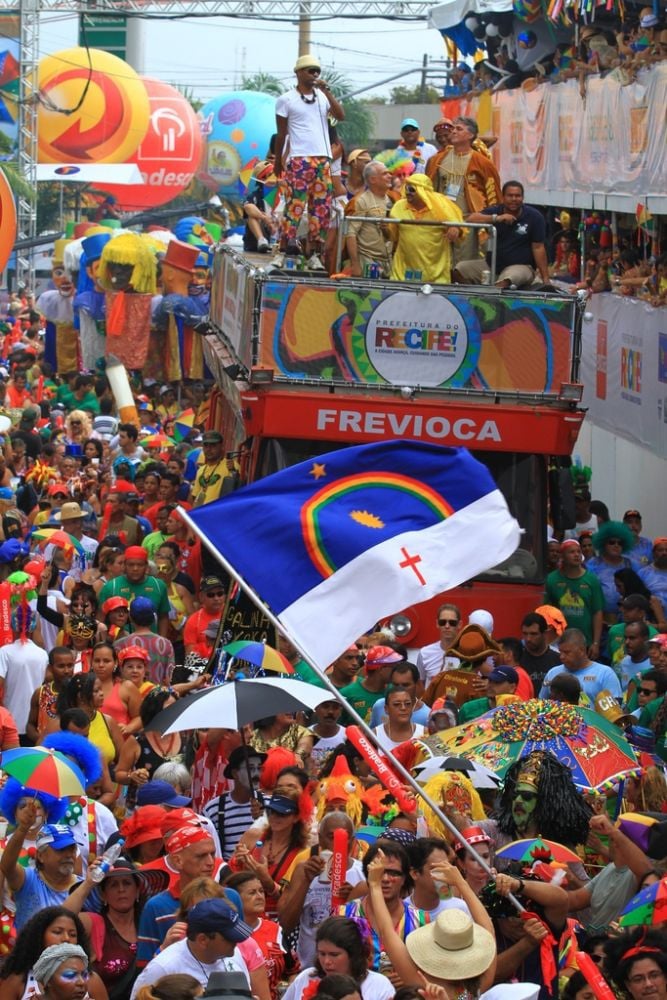 Olinda
Like in Recife, Olinda's Carnival is also a street party open to all. It would not be an overstatement to say that this is the most anticipated season for the city. Any other time of the year, Olinda is a charming and poetic destination, with a colonial atmosphere; but during the four days of Carnival (and the preceding month for that matter), the city becomes a vibrant melting pot.
Here, the celebration preserves some unique traditions of the State and region. More than 500 different clubs, 'blocos', maracatus, 'caboclinhos' and 'afoxés' which bring dance and music to the slopes of the 'Cidade Alta' convey some of the cultural and racial heritage in Brazil's heritage: European, native Indian and African. Here too specific shows and attractions are divided in pólos for convenience.
The trademark of Olinda's Carnival are the 'bonecos gigantes', giant dolls who go down the streets along with the thousands of other people enjoying the party. This tradition dates back to Medieval European processions, in which giant sculptures accompanied the religious corteges. Down here, the characters cheer up the pagan extravaganza. Every year, new models are created, so that today over 100 of them parade in the midst of the crowd. Some of them are traditional and never miss on the date, such as the 'Homem da Meia Noite' (Midnight man), who, like the 'Galo da Madrugada' in Recife, is the first to get out on the streets and declare Carnival officially open in Olinda. All of the giant dolls are brought to the Largos do Guadalupe and Varadouro on 'Terça-Feira Gorda' (Fat Tuesday) for a striking display of oddity and fun.
Another distinguishing feature of Carnival here are the costumes. People put quite a lot of work into making creative and funny disguises, based on traditions, popular or cinema characters, news events, jokes... and whatever else you might think of. So you are sure to return home with some funny photographs on your camera.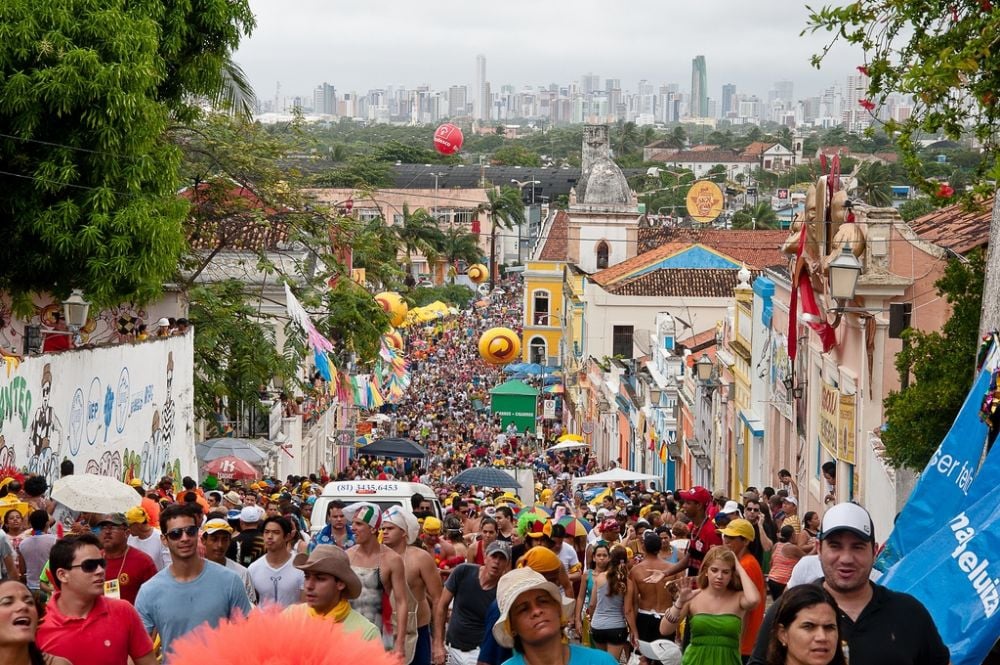 Bezerros
Bezerros (100km from Recife) is located in the Agreste, Pernambuco's hinterland, and is best known for its Carnival. Though it is the third most popular one in the State, Carnival in Bezerros remains a fun and welcoming party for the whole family, as its scale is not as overwhelming as in Recife or Olinda. Its traditional figures are the 'Papangus', fully disguised dancers who bring colour and fun to the town's streets.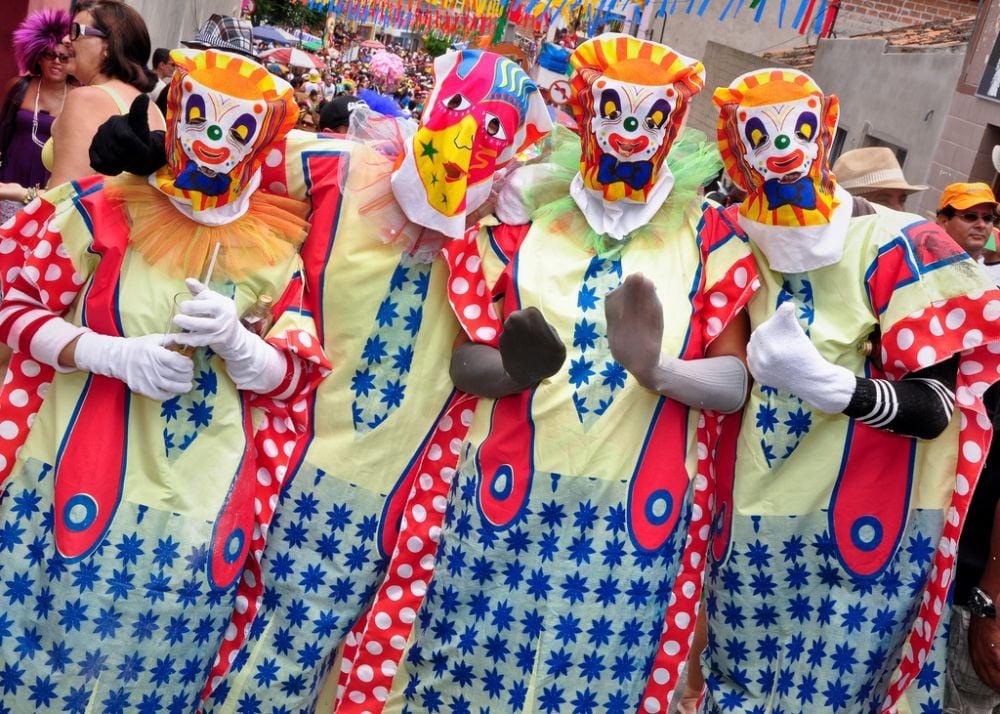 When
2014: 28 February - 4 March - more important dates.
Safety
Public safety has been progressively improved over the years in Pernambuco. In large-scale events such as Carnival, it is possible to see a fair number of police officers and patrol cars on areas with a lot of movement. Nonetheless, visitors should bear some safety tips in mind in order to avoid unnecessary risks and headaches.
Avoid carrying cheques, credit cards or large amounts of cash. Carry the amount needed for small expenses for food and beverages. Avoid large bills too. The less you handle your wallet in public, the better.
Avoid carrying your original documents with you. Choose photocopies instead.
Keep with you a card from the hotel or wherever you are staying (or write down its address and phone on a piece of paper).
Mobile/cell phones and digital cameras are easily stolen when kept in the pockets. Most people prefer to keep them strapped around their neck in a small bag or hidden in internal pockets if available.