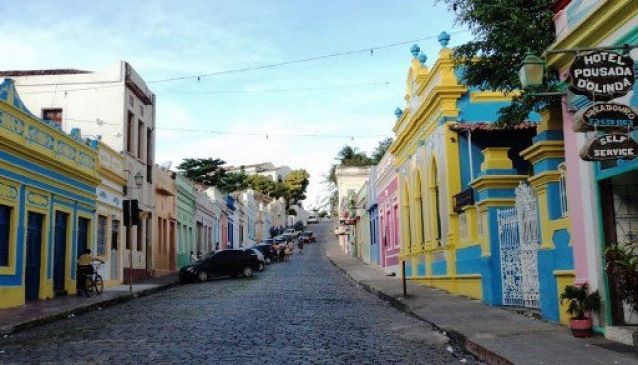 MIMO Festival Olinda 2013
Arts & Culture
One of Brazil's most amazing travelling cultural festivals has just started in Olinda
In 2013, marking ten years since its birth there, MIMO "Brazil's most adventurous music festival" returns to Olinda, a UNESCO World Heritage Site, founded in the 16th century by the Portuguese - watch a UNESCO video about this special place:
One of Brazil's most amazing
travelling cultural festivals
is happening in three of the most stunning towns in the country, noted for their Baroque architecture and historic significance: Paraty in Rio de Janeiro, Ouro Preto in Minas Gerais and
Olinda
in Pernambuco- the hosts of MIMO 2013.
If you're in the Northeast Region of Brazil during this week then you should really think about visiting the
MIMO Festival
, a free event between September 2nd and September 8th, taking pride of place in the historic, oldest and most beautiful public spaces in Olinda.
The harmonious balance between the buildings, gardens, 20 Baroque churches and convents all contribute to Olinda's particular beauty. The historical centre of
Olinda
, which is located just 6 kilometres to the north of
Recife
, still retains the charm of a city museum from the colonial period.
MIMO is an itinerant cultural festival with an international music program, from classical to jazz to modern world melodies, presented for free in churches, town squares, courtyards and other outdoor places around the city.
However, the event is not for music only. This runs concurrently with the Film Festival, with outdoor screenings, and MIMO's Etapa Educativa - the educational programme for children from local schools. The 10th edition presents music, cinema, educational sessions, visual art, master classes and workshops in a celebration of free access to all kinds of culture.
The MIMO Film Festival was launched in 2004, as an integral part of MIMO in
Olinda
, providing a unique environment for encounters between musicians, film-makers and the public. Also they invest in the musical education of young people and improving professionals.
There will be a number of foreign and latino musicians including: MadreDeus (Portugal), Stefano Bollani (Italy), Rum Tareq Al Nasser (Jordan), Ibrahim Maalouf (Lebanon), and Omar Sosa (Cuba) amongst others.
The musical attractions includes the Brazilian pianist Nelson Freire, the singer Gilberto Gil, who will be accompanied by the Orquestra de Sopros da Pro Arte, Jards Macalé, Nelson Freire and BNegão e os Seletores de Frequência.
EDUCATIONAL PROGRAM
The Educational Program it is an opportunity for music students and the general public to have direct contact with the artists during free master classes. MIMO has hosted over 15,000 students at master classes, talks, conducting courses, orchestra training workshops and MIMO for Kids, aimed at school-children.
FILM FESTIVAL
The MIMO Film Festival combines feature films, animation and documentaries, shorts and feature-length movies - many of which are debut screenings. The films all have links to music and are projected onto open-air screens, in church patios, market squares and museums. The Film Festival does not have a competition strand. All screenings are free and enhanced by the beautiful settings of the historical city of
Olinda
.
Some of the films that will be shown during the festival include Olhu Nu (Naked Eye), Nilton Pereira's Pernamcubanos, A Batalha do Passinho (Passinho Battles), Desagradável (Unpleasant), Lira Paulistana E A Vanguarda Paulista (Lira Theatre and the São Paulo Avant-Garde), Marcelo Machado's Tropicália, Eryk Rocha's Jards, Vou Rifar Meu Coração (Love Lottery) and Faroeste Caboclo (Caboclo Western).
MIMO WAVE / MOVIMENTO MIMO
The expansion of MIMO's activities throughout the rest of the year is known as MIMO Wave. It includes the launch of educational activities in Rio de Janeiro, São Paulo and Belo Horizonte; the launch of social networking platforms, talks and workshop programmes and a travelling photography exhibition commemorating 10 years of MIMO. The team has also announced the launch of new communications platforms, with exclusive content, such as a web radio with 6 channels of music and apps for the festival host cities.
You can find more information about the festival on the official site
mimo.art.br
.
* This article was produced exclusively for My Guide Recife, your one-stop travel resource by local experts with heaps of quality handmade information, tips, photos, videos and virtual tours to make your stay in Pernambuco, Brazil, one to be remembered. There are loads of options for accommodation, restaurants, nightlife and activities and trips in and around Olinda and Recife. Check out our information on the beaches, Fernando de Noronha islands and inland. We also invite you to browse My Guide's guides for the cities of Rio de Janeiro and São Paulo and nearly 100 top destinations worldwide.*