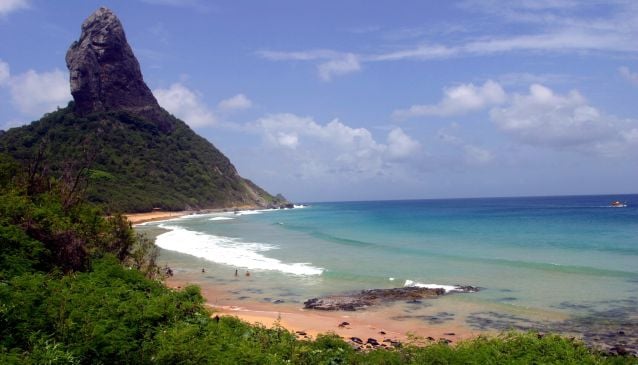 Fernando de Noronha
Adventure
The bluest of blue crystal waters, goldensand beaches and kingly rock formations.
Your virgin voyage to Fernando de Noronha will have an intriguing after-landing side effect. At first glance, Noronha looks so surreally postcard-like, that you could swear there has been some sort of colour-enhancing or light reflection Photoshop on it. You will, uttering a list of interjections, have to blink twice to make sure your 1h10min flight from Recife wasn't quite as disturbing to your senses. The bluest of blue crystal waters, goldensand beaches and kingly rock formations. All that sheltering under endless, somewhat touchable skies. No, this isn't the Lost TV Show – for we are the lucky ones – and this isn't some fictional fantasy island either. As a matter of fact, this is the closest you can get to real life, or at least the untouched one. A place where nature seems to lead men and, unconventionally enough, not the other way around. So pack your lightest clothing, tonnes of sunblock, and forget the world as it is. You know it makes sense.
By the time your plane lands in Fernando de Noronha, things can be a little hurried. Besides the instructional video starring a friendly native lizard Mabuya, queuing for the island's Environment Protection Tax – five days costs about € 88 per person – and being taken to the pousada might take a bit of your time. Enthusiasm and the adventurer inside you may be now at their peak, but soften your pace to a lighter approach and head to Noronha's historic centre, Vila dos Remédios.
Walking down towards Bar do Cachorro, pop in the bar briefly to catch sight of what will certainly become one of your fondest holiday pictures: the immensity of multi-blued seas, gently bordered by light brown sugar sands and quiet skies. Find the stairs to the beach to feel the island barefoot at Praia do Cachorro.
Although you may think this is the exact spot to spend eternity in, low tides provide easy access to Praia do Meio – if not, simply go upstairs and follow the trail back to the beach – and the traditional fish stews at Bar do Meio, served with gravy thickened with manioc flour, the authentic pirão, white rice and toasted manioc flour farofa.
Enjoy your post-meal relaxation and stroll along Praia da Conceição, with the views of His Majesty Morro do Pico hill ahead. Near the beaches, the ruins of a prison offer a hint of the past, when prisoners were sent to the island before the modern tourist times. Saltfish were cured hanging on these walls. And because the sunset in Noronha is undeniably something to worship, grab your things, walk back to Bar do Cachorro, follow the steep track next to the museum, then again on your left, and you're finally at the Forte dos Remédios lighthouse for spectacular orange and lavender skies.
To get things kick-started, your first full day in the island should begin with a lavish North-eastern-like breakfast − Tropical fruit juices, sweetcorn treats, traditional tapiocas. Steep hills and excessive heat are the perfect excuse to fuel your body whilst indulging in the local cuisine. And there's one essential rule before leaving your pousada: dip yourself into your sunscreen bottle. The sun in Fernando de Noronha is serious business, so chances of heading back home without a proper tan are non-existent.
Noronha's Top Trail
Take a cab to the Trilha do Mirante do Golfinho – The Dolphins' Viewpoint Trail, but as soon as you get in the car, ask your driver to stop at one of the dive shops available to get snorkels and swim fins – you can't get them at your final destination. Walk through the trail and feel the contagious peace of the trees and birdlife. Around six o'clock in the morning, it is possible to watch the dolphins' arrival from the Mirante, but if you're late and they're not waiting for you at the bay, don't be frustrated, you will get to see them eventually.
Keep on track until you spot the astoundingly views of Baía do Sancho, a truly mind-blowing picture and one of those moments you wonder if you will ever get to see anything prettier than that − such thoughts just keep happening in Noronha. Further on, you will finally get to Baía dos Porcos with its greenish-blue waters and the island's most symbolic twin rocks, the Morros Dois Irmãos. This is the moment you probably stop wondering about prettier sights. What a pointless business − the island takes beauty to a whole new level. Now, having made the most out of your camera functions, it is high-time to give it a rest and relish the joys of a warm, quiet, and crystalline sea.
Walk back to the Sancho entrance and, before lying and swimming peacefully around, do expect some mild adventure. Access to the beach requires managing two long ladders on a sheer cliff-face. As soon as you sink your toes in the sand though, you will see it is worth the slightly nerve-wracking minutes. Double your sunscreen coat – like most of the island and due to its remote access, Praia do Sancho hasn't got any parasols or anything man-made really; put your snorkels on and swim among plenty of coral and multi-coloured fish.
Fortinho do Boldró – The most famous sunset spot in the island. There is a short trail starting from the path of the Praia do Boldró beach which leads you to the fort. The sun sets at 6pm just behind the Morros Dois Irmãos.
Forte dos Remédios – Looking over to the Praia da Conceição and Praia do Meio beaches.
Praia do Bode and Cacimba do Padre – Simply lay on the beach for a spectacular sunset.
Porto de Santo Antônio – The island's harbour. Pop over to the Capela de São Pedro tiny chapel.
Buraco da Raquel – The lookout in front of the Shark Museum, Museu do Tubarão, pictures a wilder sunset with less gentle waves and the acrobatic performance of local birds.
To an average diver, the beach at Baía do Sueste is probably the most obviously inhabited in the island. That is to say you will swim not only among different sized fish and rays, but with actual sea turtles so close to you that you might experience a little disturbance at first, to eventually fall in love with their rather gracious and curious looks. The best time for spotting them is at medium-high tide. Walk ahead to the Ponta das Caracas for a privileged view of the natural swimming pools and find your way to stunning Praia do Leão beach − the green turtles' nesting and delivery spot between January and June. Stroll along the beach to explore magical pools and rock formations.
From the island's harbour, a boat will take you on a three-hour round trip through turquoise waters, fantastic rocks and the much anticipated moment: Noronha's spinning dolphins, jumping and dancing in their acrobatic spirals, right next to your boat. An overwhelming experience – it's actually difficult to follow the 'keep quiet' instruction when your breathing alone reveals such helpless excitement. Just when you think you're about to recover, there it comes the striking views of Baía do Sancho and its gigantic rock wall seen from the boat. Time for a bit of snorkelling and some deep underwater delight.
When to go
The quietest waters and greenest vegetation are found between July and October. Surf lovers will be in paradise from December to April. More background and history on Fernando de Noronha in Regional information pages.
Where to stay - see options for Pousadas here.
Restaurants :-
Beijupirá – Location: Floresta Velha - Telephone: +55 81 3619 1250
Flamboyant – Location: Bosque Flamboyant - Telephone: +55 81 3619 1510
Maravilha – Location: Vila do Sueste - Telephone: +55 81 3619 0028
Varanda – Location: Vila do Trinta - Telephone: +55 81 3619 1546
Zé Maria – Location: Floresta Velha - Telephone: +55 81 3619 1258.
Nightlife - Evenings can get real fun in Noronha – be careful not to spoil your sacred morning in the island by oversleeping after a night-out.
Bar do Cachorro − Location: Vila dos Remédios – Friday nights with the high-spirited North-eastern Forró dance music. Once you get your hips moving, you will see there is no turning back.
Espaço Cultural Muzenza − Location: Vila dos Remédios – Next to the church, Brazilian samba will get everybody electrified.
Dive centers and equipment
Diving and snorkelling in Noronha is about as good as it gets in Brazil, with warm water year round and excellent visibility. See options for Diving companies here.
Getting there from Recife and São Paulo
TRIP and GOL Airlines operate daily flights from Recife to the island.
TRIP – Outward Flight No. 5430 / Departure: 12:02am (Recife time); Arrival: 14:00 (Noronha Time); Return Flight No. 5431 / Departure: 17:10 (Noronha Time); Arrival: 17:10 (Recife Time).
GOL – Outward Flight No. 1680 / Departure: 08:05 (São Paulo Time); Arrival in Recife: 11:21 (Recife Time); Departure: 13:52 (Recife Time); Arrival: 16:05 (Noronha Time); Return Flight No. 1681 / Departure: 16:35 (Noronha Time); Arrival in Recife: 16:41 (Recife Time); Arrival in São Paulo: 22:40 (São Paulo Time).